Here at North Pole Santa Letters, we take pride in offering excellent customer service to accompany our great selection and quality of products. See what our valued customers have to say.
2018 Season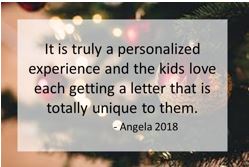 "[I] love North Pole Santa Letters!  One of the only websites that you can visit year after year and not have the same "stock" letter sent.  It is truly a personalized experience and the kids love each getting a letter that is totally unique to them.  Makes them feel like Santa really watches over them" – Angela
"You are so fast!  My grandchildren received their letters on Monday and as always, were very excited.  I especially loved the religious letters this year.  Keep up the good work and Merry Christmas!  Thanks for helping to make my babies Christmas better." – Tammy
"Thank you again for going above and beyond to make my grandson's Christmas brighter!  Mason was so excited to get his letter from Santa!   When Mason arrived at my house yesterday, he had his letter in hand and immediately had so show it to me.  I appreciate your huge help in getting his letter delivered" – Diane
"Beautifully done letters on a high quality paper.  You can tell extra attention to detail with the personalization to make sure it fit the paper correctly.  My kids were beside themselves with their letters.  I will definitely be ordering again!" – Saasha
"Excellent customer service!  My letters were not all received on the same day, and [Pam] was very quick to respond to my email and provide shipping information.  You could tell she was very concerned and offered to ship out additional letters.  Good news is they were received a couple days later without shipping new ones." – Kurt
"My kids were so excited with their letters and how much Santa knew about them.  The level of personalization in [North Pole Santa Letters] letters is far beyond what I have found at any other company.  Add that with the outstanding selection, you just can't find a better value out there" – Richard 
"Best service around!  December 23rd and one of three letters had still not been received (note it came on December 27th), so [Pam] happily made a new letter and had it delivered to our doorstep!  Granted we were lucky enough to only live 30 miles away, but what other company would do that just so a letter could be received?" – Emily
"I really appreciate all of your help year after year. My daughter LOVES these letters!" – Rebecca
"Great user friendly website, exceptional product and customer service.  Thank you so much for everything you do to make the holidays special" – Kira
[North Pole Santa Letters] typically does not ship outside of the US and Canada, but I had a special occasion and reached out and asked if they could mail a letter to Australia.  On top of that, also asked if they could make a custom letter for me.  [Pam] was very gracious and took on the challenge with just a little bit of information for each of my children, and collaborated with me to make sure I was happy with the result before mailing.  I could not imagine anyone else spending the time to create a letter like this.  Truly the best customer service I have experienced anywhere, and the kids LOVED their letter and the surprise that came with it" – Alicia
"Great customer service.  Upon receiving my order and starting the letters, [Pam] reached out to verify the contents of what I had put on the order forms.  Without her, the kids would have gotten some pretty confusing letters.  What they got were letters that they were so excited to receive! – Thank you for all you do." – Marilyn
2017 Season
"Thank you so much for doing this! I have used your service for my daughter for several years and every year she is just as delighted and surprised as the first year. I cherish the moments of belief and magic you provide. Thank You!" – Jen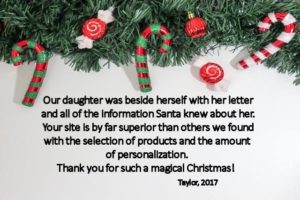 "Our daughter was beside herself with her letter and all of the information Santa knew about her. Your site is by far superior than others we found with the selection of products and the amount of personalization. Thank you for such a magical Christmas!" – Taylor
"Beautiful high quality letters, great selection, excellent customer service. In every communication is was very apparent that your main concern was providing a special Christmas for the children. My kids LOVED the letters and were so excited that Santa knew all about them!" – Emily
"[North Pole Santa Letters] is the best service of this kind. I have used others in the past, and they cannot compare to the quality and selection of your letters! My daughter was so excited that Santa knew about her performance in her school musical! Look forward to working with you again next year." – Pat
"[I] can't express how grateful I am to you for your help with the perfect custom letter for my granddaughter. Even though she is 23 she loves to receive her letters from Santa. Although she will not admit to me knowing that Santa isn't real, I over heard her tell her mom, this was the best letter she had received. Thank you so much for your extra effort." – Sue
"Excellent customer service! One of the letters to our kids was lost in the mail, and [Pam] you promptly offered to put another letter in the mail at no charge. In addition, followed up to ensure it was received and in time for Christmas. Thank you so much for caring!" – Leeza
2016 Season
"[I] Highly recommend North Pole Santa Letters. My daughter was beside herself when she received her letter. She couldn't stop talking about it and telling all her friends at school" – Mike
"I loved that the envelope was also decorated in Santa print and love the North Pole stamp. My kids loved the letters!." – Hanna
"Beautifully done letters and envelopes – very high quality. I have purchased letters in the past from others and they cannot compare to the letters received from North Pole Santa Letters" – Tammi
"Great site, great site, and exceptional customer service" – Pat
"This is our 4th year purchasing from North Pole Santa letters and could not be happier. Great selection, excellent customer service and my kids LOVE them!" – Maddie
"My grandkids loved them. It was very important for each child to receive a different letter and background. I will definitely purchase again!" – Tia
"Great communication and very easy to work with. Helped me create the perfect custom letter for an older child. Thanks to North Pole Santa Letters my daughter is still a believer" – Kena
2015 Season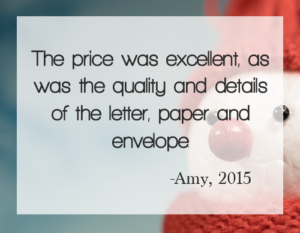 "My son loved that Santa sent him a letter. After reading it to him he said, "Aww, Santa loves me." This was the first Santa letter I have ordered and I was so impressed that I will definitely be ordering again next year! I loved it! It was exactly what I hoped it would be and am so happy with the whole experience! You had the best personalization that I found and a great selection of stationary for it. The price was excellent as was the quality and details of the letter, paper and envelope." – Amy
"I liked your price and the fact I could order just the letter. Other sites I felt like I was paying for things I didn't want such as a Santa video and call from Santa." – Holly
"The letters were very well done. Thank you for helping make Christmas even a brighter time of year!" – Todd
"Very sweet. Concerned more about the children than themselves!" – Tammy
"What a great value for the money. Beautiful letters, well done! And my daughters loved the stickers. I also really liked how both of my kids received different envelopes and different sheets of stickers. Made them feel much more personal!" – Christina
"What a great, high quality product. I loved being able to create a custom letter, and I was very impressed with the quality and selection of paper, as well as the detail of how the letter was on the stationary. I ordered both custom and standard letters – 6 letters between my children and some friends and all of the kids LOVED them! Definitely brought a bit of magic to our Christmas season and lots of smiles." – Kaylee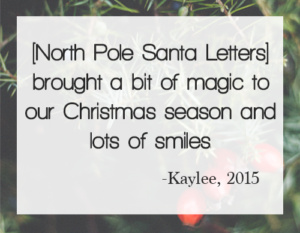 "My two granddaughters were very excited…but the 3 year old was most excited over the stickers! Since I have two granddaughters at the same address, I had to have two different letters sent to them and you had a good variety of letters to choose from. All the other sites I looked at only had one form letter. Personally, I like the fact that you send the letter and stickers….all the other sites you had an option to order additional things, i.e., ornaments, etc. I think just a letter from Santa is sufficient." – Judy
"What great customer service. Pam was very concerned about the delays with the postal service and kept me very informed of status. She even offered to send out new letters, free of charge, just to ensure my grandchildren received them before Christmas. We will definitely be a repeat customer! Thank you and Merry Christmas!" – Colleen
"What a great website. Easy to use, very good selection of letters and stationary, and a great price for the high quality of the product. It is refreshing not being pushed into buying other products, and to me feels much more authentic that Santa just wrote a letter and included some stickers. And my kids LOVED their letters!! Thank you so much for bringing some extra Christmas smiles!" – Brianna
"I have an older daughter and because of the many choices of letters, I was able to allow her to still have some magic. Thank you for offering this service as I am unable to create the same magic that your product does." – Jennifer
"Loved the letters and envelopes!" – Lesley
"This site is awesome!!!" – Shauna
"Thank you, the letters were were great! And you even corrected my misspelling!! " – Robert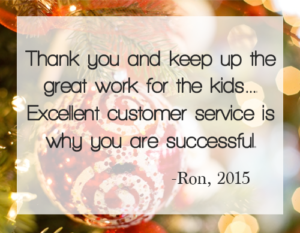 "We have been ordering from you for the past 4-5 years and would like to thank you for this service. I know there are others out there, but you have always come through with the letters to our grandkids and family friends, and THE KIDS LOVE THEM. Even last year when I forgot & ordered them 8 days before Christmas. Thank you and keep up the great work for the kids….Excellent customer service is why you are successful. Just wish others would understand the necessity of good customer service" – Ron
2014 Season
"My granddaughter received her letter and LOVED it. Thank you for doing this to make children smile!! I have a new grand baby as well so next year there will be 2 for you to do for me. Have a Merry Christmas and a blessed New Year!!" – Jodie
"Thank you for your letters. My grandchildren's excitement was over the top when they received their letters! They couldn't wait to bring the over to show me. Very high quality! We will definitely be a repeat customer." – Sheila
"Thank You! The letter came yesterday and it was simply wonderful to see XXXX so excited! I think the letter did the trick to bring the "magic back" and answer many of his questions. He was so excited as we read the letter!! I think he is believing right now. The signature was great….more convincing to him. Thank you so much!!! You added a very magical moment to our Christmas! Merry Christmas!!" – Natalie
"What a great value for the money. I looked at several other web sites, and in the past had purchased from a competitor. Your letters were much better quality and authentic. Thank your for the memory! Merry Christmas." – Joe
2013 Season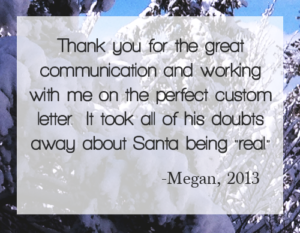 "Thank you for the great communication and working with me on the perfect custom letter. It took all of his doubts away about Santa being "real." Having the real North Pole Postmark sealed it for him! Happy Holidays." – Megan
"We purchased 5 letters from you for our kids, and they loved them! Having the ability to have them all be different really made it feel like Santa had taken the time to write each of them their own letter. They have carried them around with them, showing friends at school and church. It was the best gift they received for the holidays. Thank you for a "magical" Christmas! God Bless." – Sue
NOTE: Names may be changed to protect identities.